Yuneec Q500 Typhoon Quadcopter with CGO3 4K Camera and Aluminium Case

The Q500 4K Typhoon Professional Version is a complete aerial photography and videography (APV) system. The Q500 4K System includes the aircraft, a CGO3 4K UHD camera, the ST10+ personal ground station, chargers, an 8GB micro SD card.
The Q500 4K Professional Version also includes 2x Batteries, chargers and a 'Free' hard carry case (RRP £89.99) to securely transport your Typhoon 4K. In addition, the Q500 4K includes all necessary accessories so no additional items are needed to fly.
The ST10+ personal ground station is a 10-channel 2.4GHz RC transmitter that supports a 5.8GHz video downlink that delivers streaming video to the in-built 5.5" screen of the transmitter.
While the Q500 4K offers a superior flying experience, it is the quality of the video and still images that sets it apart. The CGO3 4K camera combines the 12 megapixel, 4K 30FPS video, camera and a 3-axis brushless gimbal into a single unit that captures smooth, steady aerial video and still images in vivid detail
Capture the future
Person Ground Station with built-in touchscreen display
integrated 3-axis precision gimbal camera
4K/30fps ultra high definition video
1080p/120fps slow motion video
User Megapixel photos with No-Distortion Lens
Handheld SteadyGrip for caturing video footage on the ground


  Kit Contents   
- Q500 RTF Airframe with Pre-Installed CGO3
- ST10+ Transmitter and Personal Ground Station
- LiPo Battery - 3S 11.1V 5400mAh (x 2pcs)
- Propellers/Rotor Blade (x2 sets)
- USB Interface/Programmer
- 8GB microSD Card with Adapter
- DC 3S 11.1V LiPo Balancing Charger
- AC to DC Adapter/Power Supply (UK Lead)
- USB AC to DC Tx Adapter/Charger (UK Plug)
- USB to Micro USB Cable
- 3S 11.1V LiPo Balance Connector & Charge Lead
- DC Automobile Accessory Socket / Cigarette Lighter Adapter
- ST10+ LCD Screen Sun Shade
- ST10+ Neck Strap
- Motor Holder/Propeller Installation Tool
- Hard Carry Case
- ProAction SteadyGrip (Included - Boxed Separately)
  Product Features  
CG03 4K 3-axis Gimbal Camera
With ultra high defintion (UHD) resolution, four times higher than HD, the camera delivers high-quality images with the ability to capture slow motion 1080p 120fps and 12 megapixel photos. Capture lige in 4K with incredible detail and unparalleled realism.
With Me and Follow me
Getting smooth professional footage flying manually is never been as easy as using Watch Me mode. Set up the Typhoon's psotion and automatically get amazing footage of your actions on the go.
Create amazing selfie videos, drone effects or just set up ther Typhoon to follow you anywhere you go!
Professional stable shots on the go
The SteadtGrip handheld device ensures ground shots are as smooth as those taken from the air. The CG03 mobile APP allows the SteadyGrip user to capture images, shoot videos and control the CG03 gimbal camera.
Modular System
The Typhoon Q500 4K system is modular. The camera can be mounted on both the Q500 aircrast and the SteadyGrip.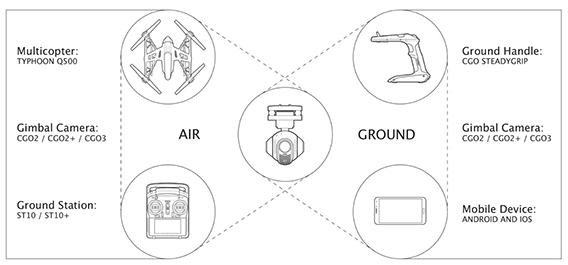 Move. Capture. Create

The SteadyGrip CG03 system combines a 3-axis precision gimbal with Yuneec's 4K Ultra High Difinition video camera, allowing you to capture amazing and stable video footage. The camera pitch controller allows precise camera angle control while on-the-go, using a mobile device, with up to a 6.4-inch display
Smart Features
 

 

Follow Me

When Follow Me is enabled, the aircraft is leashed to the pilot, who is controlling the ST10+ location. With this feature, flying and capturing video following the pilot is easy, flexible and intuitive.

 

 

Watch Me

When Watch Me is enabled, the 4K camera stays pointed at the pilot, holding the ST10+, in focus and in frame, no matter which way the drone is maneuvered

 

 

Dynamic Return Home

Switch to Home Mode, and the Typhoon will fly back towards the location of the pilot holding the ST10+, and will automatically land within 13 to 26 feet (4 to 8 meters) of the pilot

 

No Fly Zones

Ensuring utmost safety, the FAA compliant No Fly Zone Feature prevents flight near commercial airports.

 

Legal Flying Height

The No Fly Zone Feature also prevents flight above 400 feet from the ground.

Smart Circle

The Built-in GPS establihes a 26 foot (8meter) diameter Safe Smart Circle around the pilot, and alos creates a geo-fence that keeps the aircraft from traveling farther than 300 feet (91 meter) from the pilot's postion.
All-in-One Controller
The ST10+ Personal Ground Station is an all-inclusive transmitter and receiver that gives you full control over the Typhoon Q500 multicopter during flight, allowing user to capture photos and shoot video with great ease as well as featuring a 5.5-inch touch screen that displays in flight telemetry data.
You will not need to install portable devieces and your sustem will be always ready just as you left it.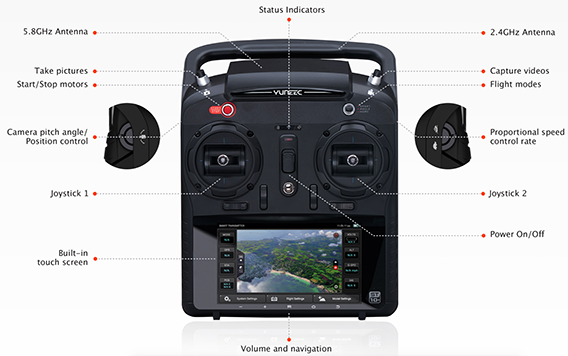 A Tripod in the Sky

The CGO3 is an innovative combination of a 3-axis gimbal, camera and digital video downlink. Control the tilt angle direction from the ST10+ and view the world from above, as if you were flying, from horizon to 90 degrees down.
 Distortion-Free Lens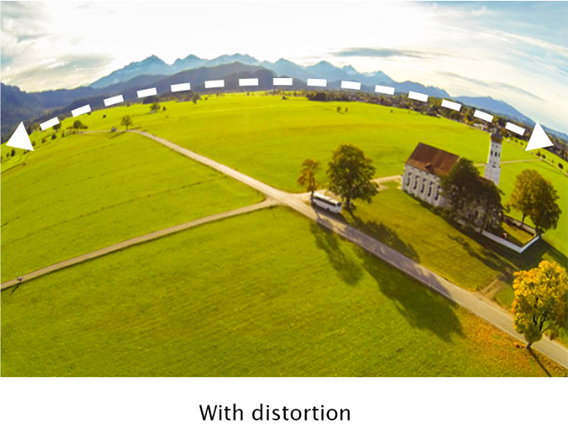 The CGO3 camera features a 115-degree wide angle distortion-free lens that allows you to see the world just as it is!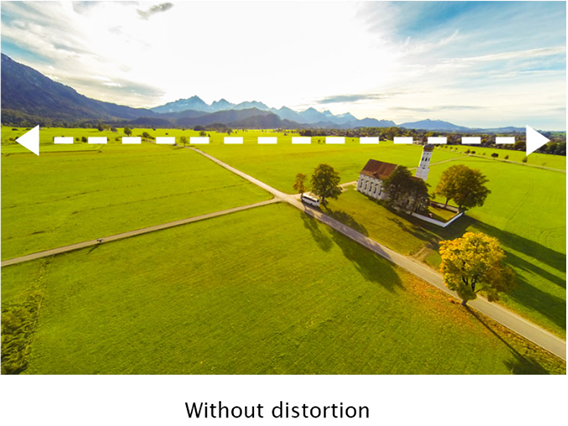 Professional Camera Interface
Real-time telemetry data made available on the screen during flight including flight mode, altitude, speed over ground, distance from home, camera status, GPS postion coordinates, and aircraft battery status.
Controls expected by professionals include adjustable video resolution and white balanc, while light exposure video resolution and white balance, while light exposure can be controlled automatically or manually, including ISO and Shutter Speed.
The camera also allows users to take pictures while recording video, and the still images are available in RAW (DNG) and JPEG format.
  Specifications  
TYPHOON Q500 4K Aircraft
Flight Time

 Up to 25 Minutes

Dimensions:

420 x 420 x 240mm (16.5 x 16.5 x9.5in)

Diagonal Length Without Rotor Blades 

565mm (22.2 in)

Propeller/Main Rotor Diameter

 330mm (13.0 in)

Takeoff Weight with Battery and CGO3:

1700g (60.0oz)

Weight Without Battery and CGO3

 1130g (40.0 oz)

Battery

 5400mAh 3S 11.1V LiPo (2 pcs included)

Charger

 3S 11.1V LiPo DC Balancing Smart Charger with AC Adapter (included)

Transmitter

 10-channel 2.4GHz with 5.8GHz video downlink (included)

Radio Control Frequency Band:

2.4GHz

5 Flight Modes:

Smart (Follow Me, Watch Me) Angle and Return Home
Maximum Flying Height** Default 400 Feet Above Ground Level (Adjustable via the Q500 GUI)

Maximum Rotational Velocity

 65°/s

Maximum Roll Angle

 35°

Maximum Climb Rate in Smart and Angle mode

 3m/s

Maximum Descent Rate in Smart and Angle mode

 2m/s

Operating Temperature Range:

-5°C to 60°C;

Maximum Flight Speed:

8m/s
IMPORTANT WARNING**Local Laws Apply : Maintain Visual Line of Sight of Aircraft at All Times
 CGO3 4K Stabilised Camera
Focusing System:

Aerial Optimized Fixed Focus

Video Resolution:
| | |
| --- | --- |
| UHD: | 4K at 30FPS, 2.7K at 30FPS, 2.5K at 30FPS |
| Full HD: | 1080p at 24/25/30/48/50/60/120FPS |
| FD: | 720p at 24/25/30/48/50/60/120FPS |
Photo Resolution:

12 Megapixel

Sound:

Internal Microphone (Switchable On/Off)

Adjustable Camera Settings:

Video Resolution & White Balance, Auto or Manually adjustable ISO and Shutter Speed

Video Field of View:

110° Zero Distortion

Control Angle Accuracy:

±0.02°

White Balance:

Automatic Smart White Balance

Transmission Band:

5.8GHz

Input/Operating Voltage:

7.0V to 14.0V DC
Video Transmission Distance/Range** (Optimum Conditions):CE Compliance**: Up to 400m (1312.34 ft) with ST10+

Current Consumption/Operating Current:

500mA (average) to 600mA (peak) @ 12.0V (7.2W max)

Camera Angular Control Range:

Pitch between 0° to -90°

Working Temperature:

0°C-50°C

Storage (memory):

microSD Class 10 (4 to 128GB)

Weight:

185g (6.5 oz)

Height:

115mm (4.5 in)

Depth:

135mm (1.4 in)

Width:

74mm (2.9 in)
IMPORTANT WARNING**Local Laws Apply : Maintain Visual Line of Sight of Aircraft at All Times
 ST10+ Personal Ground Station
Operating System:

Android™

Number of Channels:

10
Control Transmission Distance/Range** (Optimum Conditions):CE Compliance**: Up to 400m (1312.34 ft)

Robust Radio Control Modulation:

Yuneec Protocol

Video link Frequency Band:

5.8GHz
Video Transmission Distance/Range** (Optimum Conditions):CE Compliance**: Up to 300m (984.252 ft)

Flight Systems Telemetry Data On Screen Display (OSD):

Yes

LED Backlit LCD Screen:

Capacitive Multi-Touch 5.5"

Transmitter Warning Feedback:

Audible and Tactile (Vibrating)

In-Built LiPo Battery Voltage / Capacity:

3.6V/5200mAh 18.72Wh

Transmitter Charger:

Auto-Charge via Micro-B USB Cable with AC to 5V DC USB Power Supply
IMPORTANT WARNING**Local Laws Apply : Maintain Visual Line of Sight of Aircraft at All Times