Tarot have provided the multirotor fraternity with some exciting, innovative and excellently engineered multirotor frames and accessories and the latest offering, the ZYX-M flight control system is no exception!
ZYX-M has broken the mold and offers some never before seen features including, full metal cased components for improved protection and durability, dual SBUS receiver ports, dual DSM satellite receiver ports, specific interface for Tarot gimbal control, dual voltage PMU that has the capability to power the main flight controller, gimbal and video transmitter at the same time. 

The ZYX-M also offers smart landing gear programmable functions meaning the gear can be programmed not to retract before a specific altitude. In emergency situations the landing gear can be programmed for automatic retraction to potentially save your camera, gimbal or even the airframe.

The flight control parameters also have some excellent functions including, no-fly zone protection function whilst in GPS speed mode, the multirotor will not fly beyond the protection range, should the pilot fly out of protection range it will automatically trigger the return to home function.

Another great feature is the damaged/broken arm protection (hexacopter, octacopter) when a single motor or propeller becomes damaged the the multirotor can still maintain normal flight.

The ZYX-M supports a multitude of frame configurations including quadcopters (X8), Tri-copters (Y6), hexacopters and octocopters.

Features:
• 32 bit processor with super strong computing ability
• Built in anti-vibration sensor
• Full metal casing provides excellent protection
• Supports dual-USB receiver
• Dual DSM satellite receiver
• Specialized gimbal control interface, can directly control Tarot gimbal
• High performance GPS receiver
• High-gain antenna
• Fast satellite searching speed and high accuracy positioning
• Dual power output, can power flight controller, gimbal and transmitter
• Voltage monitoring, low voltage alarm

Specs:
Input Voltage: 7.2~26v (2~6S)
Dimensions: FC 54x39x15mm / GPS Dia 50x10mm / PMU 39x27x8mm / LED 27x27x7mm
Weight: 116g (FC 46g, GPS, 26g, PMU 22g, LED 12g, Wires 10g)

Included:
Tarot ZYX-M flight controller
Tarot ZYX-M GPS module
PMU power module
LED indicator
USB serial hub and micro USB cable
8 x FC to RX jumper cables
Flight control equipment
Tarot ZYX-M flight control set a number of new technology in one, simplifying the complex process of miscellaneous debug operations, redefining the flight, bringing the minimalist nature of the operation.
Because it is, the way the scenery flying ever closer.
Operating experience
Intelligent flight control this is to enhance flight experience was born, ZYX-M even more so. Through advanced INS intelligent solver and navigation controls interaction algorithm, so that the aircraft can have both stability and maneuverability. You can according to their needs, set the aircraft in assistant software in pitch, roll and yaw characteristics, arbitrary design specific to your flight feel.
flight safety
Tarot ZYX-M multi-axis flight control for your aircraft well aware, for safety, it is more comprehensive than you'd like, multiple abnormal state can provide protection, but also timely to remind you to appropriate action in the event of unusual circumstances. Including setting flight range and no-fly zones and other protection, so that the aircraft in flight time and smooth in the controllable range.
Main Controller master:
32-bit processor with powerful computing capabilities.
Built-in sensors shock absorption, superior seismic capacity.
Full Metal Jacket, to provide comprehensive protection.
Dual S-BUS receiver
Double DSM satellite receiver, remote control and reliable guarantee.
Exclusive PTZ control interface directly control TAROT new head.
Info Features:
It supports up to nine aircraft types, plus 3 server output, more scalable.
Please Look at http://www.tarotrc.com/tool/ZYX_M_Setup_v1.0.exe
There you find under download the required software.Download and install it.Then you find on your desktop the PDF Manual (very detailed and clear)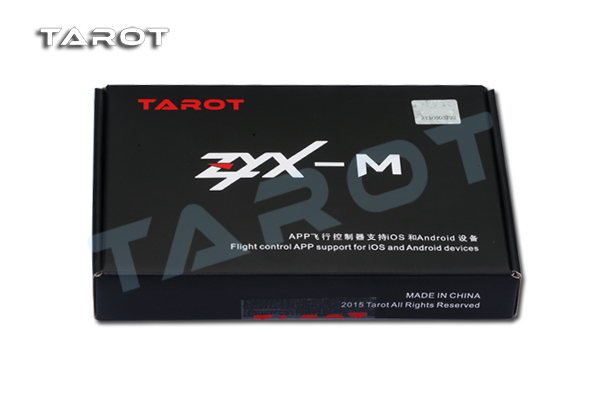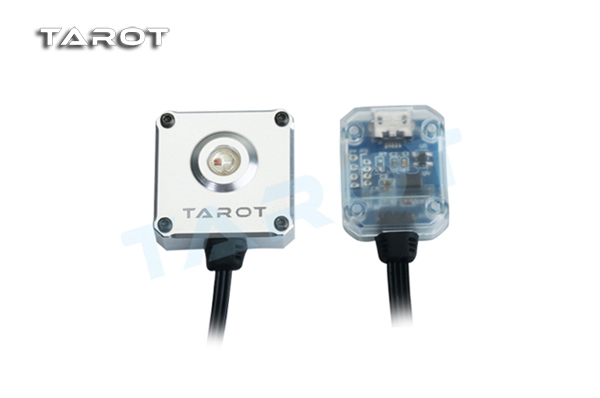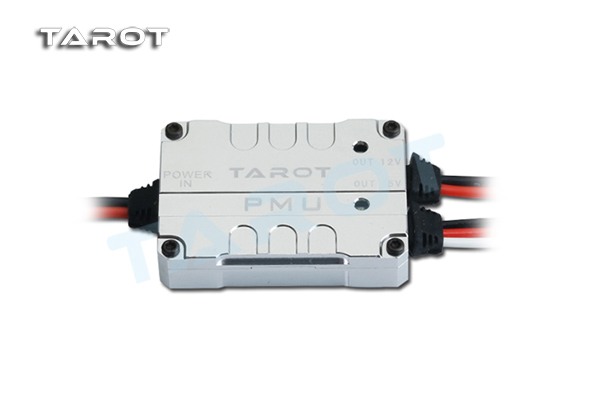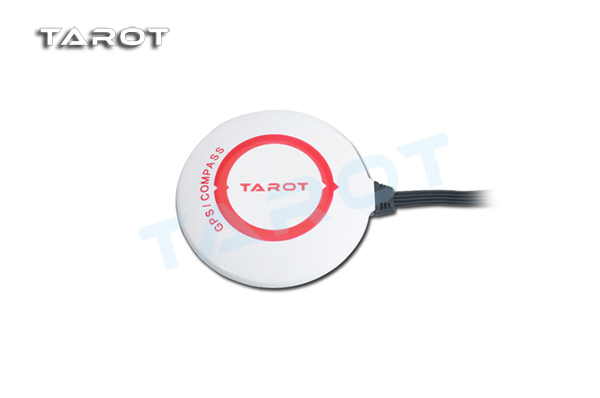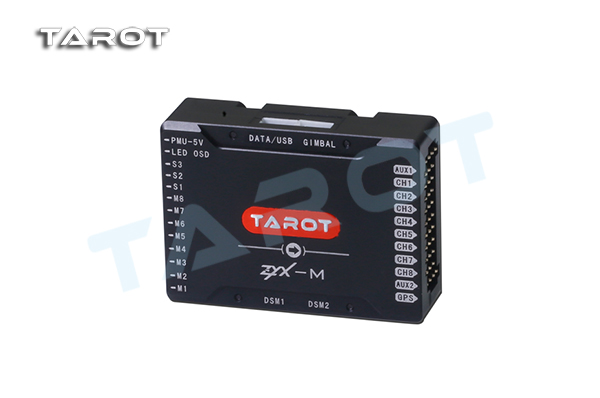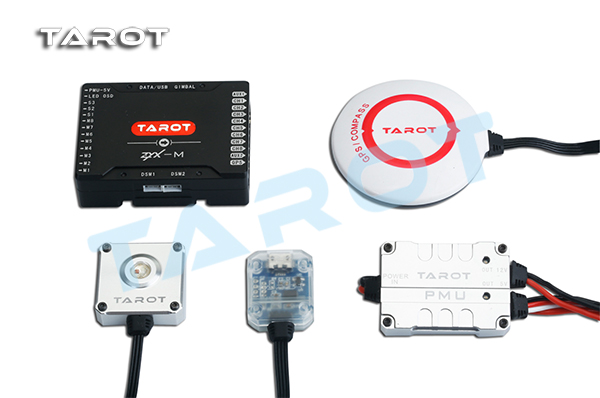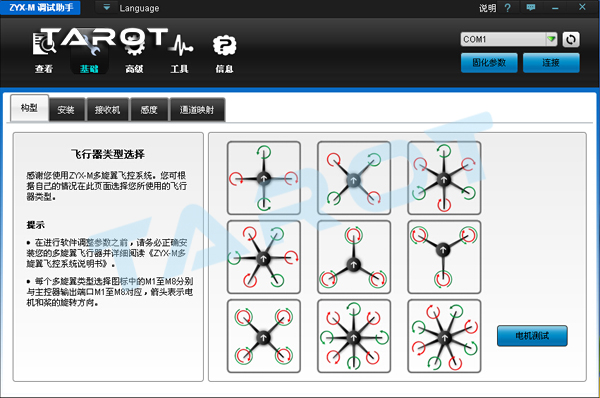 GPS speed mode under precise controlled flight speed:
     Under GPS speed mode, flight speed completely proportional to the amount rocker, real fixed speed flight; rising and falling speed is proportional to the amount of the throttle lever does not appear unexpected rapid rise and fall.
Uncontrolled return, a return key:
     When the remote control signal is lost, the aircraft can take off point is automatically returned to land safely; you can also toggle the remote control switch remote control signal to trigger the automatic return to normal when landing.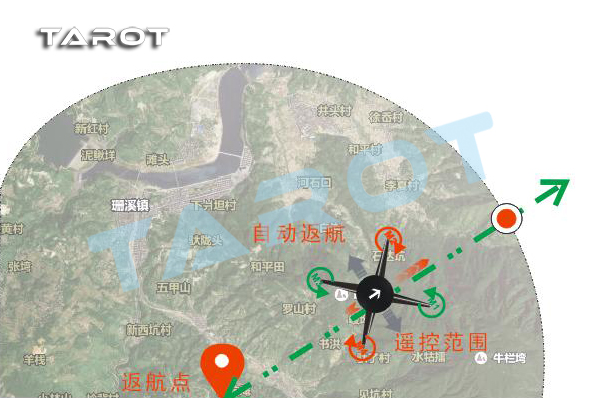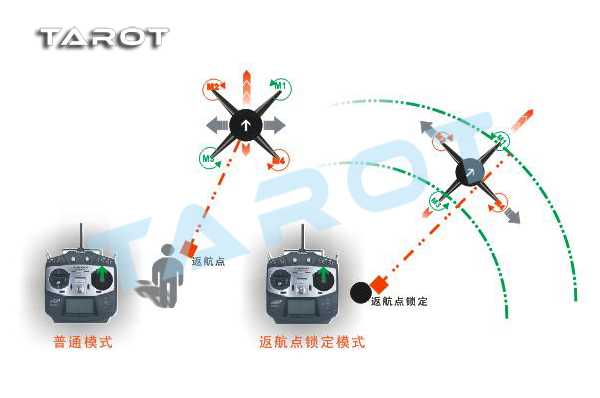 Intelligent Orientation Control (IOC) and points of interest surrounding the (POI):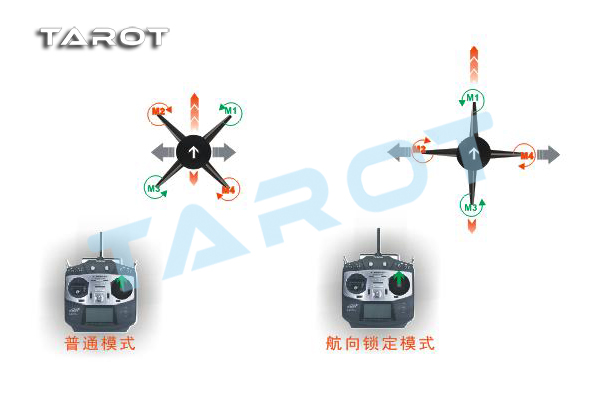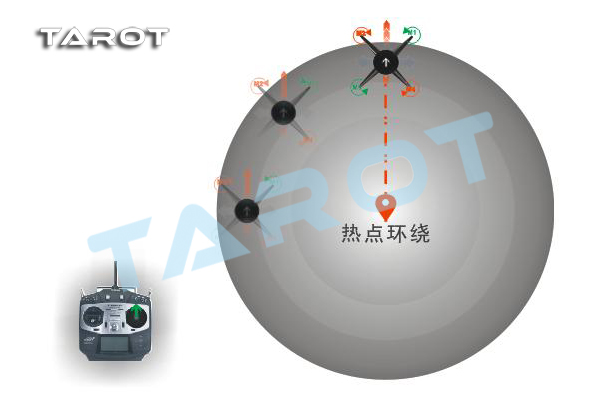 Intelligent undercarriage features:
     With this function enabled, the landing gear will not accidentally stowed on the ground; (such as automatic landing, etc.) are automatically put down in case of emergency
Landing gear; after flying height of more than 5m retractable landing gear and down through the switch.
Powerful flight range and no-fly zone protection:
     In the GPS speed mode, the aircraft will not fly out of the scope of protection set; in the other modes, once flying out of the scope of protection, immediately trigger the automatic return; within the no-fly zone near the airport, the aircraft's flight altitude and range is strictly limit.
Broken oar protection (aircraft and six or more axes)
     And aircraft above a six-axis, when one of the motor or propeller is not working properly, the aircraft can fly, or guarantee the normal attitude control, not the crashes.